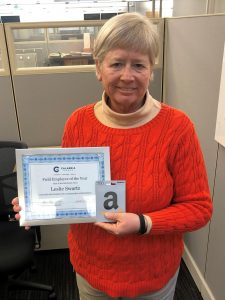 Calabria Group would like to congratulate our Consultant of the Year, Leslie Swartz!
Leslie worked with one of out top clients as a Configuration Manager, supporting our client's Automotive Software and Firmware projects. Prior to accepting this role, Leslie's experience was largely in software, so she had to quickly get up to speed by putting her experience in Software Configuration Management to work in navigating the many moving parts of Firmware projects.
During the term of her contract, Leslie enjoyed the challenge of meeting tight deadlines, in particular having to meet a very tight, four-week deadline at the start of her contract to prepare for a very critical client assessment, centered on process improvement and capability determinations.
When Leslie is not hard at work, she enjoys, spending time with her family, hiking, swimming, biking and tending her garden. As a result of all of her hard work, Leslie was offered and accepted a full time position with our client she worked with on our behalf. We wish her well on her new position and thank her for her many contributions to Calabria Group!