Welcome to the May 2022 Calabria Group
newsletter, a monthly look at Staffing trends, the current
business environment, news that we've found insightful,
and a chance to share a few positions we are working to fill
for our valued clients!
In this month's edition, we are discussing ways to celebrate Memorial Day this May. As always, we highlight some open positions available, and if you're looking to round out your team with top talent, contact us below!
---
Celebrating Memorial Day at Calabria Group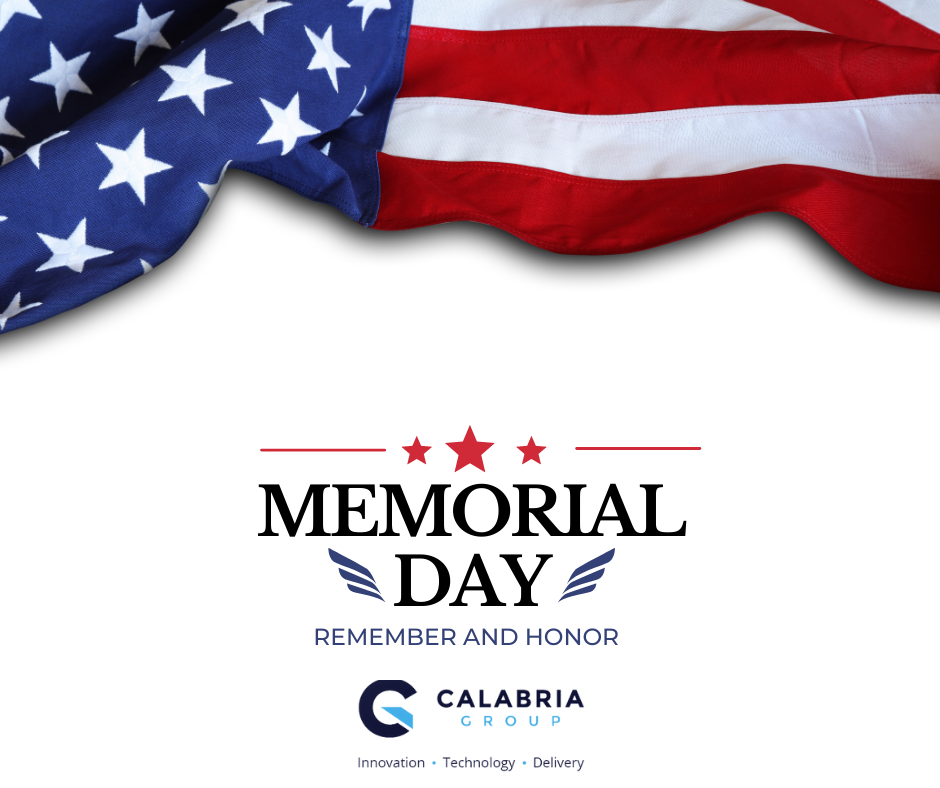 May marks a pivotal holiday for celebrating U.S. military personnel who died in service for Memorial Day. Calabria Group is breaking down the best ways to celebrate with friends and family this year:
Sacramento County Fair: May 25 – Monday May 29
Cal Expo
This annual Memorial Day tradition is a patriotic and action-packed festival of fun. The theme of the Sacramento County Fair is "Let's Eat, Have Fun & Celebrate the Red, White & Blue". What better place to do all of the above than the fair?
Sacramento RiverTrain: May 27th
Hop on board the Sacramento RiverTrain's Memorial Day ride on Saturday, May 27. Each trip features a live band and two beer selections from four Northern California breweries, including Mraz Brewing Company, Hoppy Brewing Company, and two more mystery breweries. Mingle with local brewers at each tasting station and wander amongst three open-air cars along the 2.5-hour train ride while you listen to live music from The Straight Shooter Band.
No Excuses 5k: May 30th
William Land Park
On Memorial Day, No Excuses 5K, presented by Buzz Oates, invites you to run, walk or roll and pay tribute to military heroes, while supporting programs for veterans needing assistance.
Find out more about how you can celebrate memorial day, jobs hiring, & the occasional recruiting meme find us on Instagram: @calabriagroup
---
We are hiring eligible candidates through the month of May🌷
To browse all our available positions, click our search jobs button below
---
Click the button below to view all our available positions!
---
News, Culture & Recruiting Headlines
Colleges are Adapting Corporate Marketing Tactics to Drive Enrollment
Data from the National Student Clearinghouse Research Center (NSCRC) shows enrollment across all colleges was down 2.7% in fall 2021 and 2.5% the year before that. While two-year and for-profit colleges have taken the hardest hit, private non-profit and public four-year institutions saw enrollment declined 1.6% and 3% last fall, respectively.
Over Half of Employees Open to Changing Jobs
Twenty-nine percent of full-time employees are actively looking for a new job with a different employer versus 33% a year ago, according to a survey of more than 5,000 full-time employees by Grant Thornton LLP. Fifty-one percent of employees are not actively looking for a new job but would consider a switch if the opportunity presented itself. Among workers who earn an annual salary of $100,000 or more, that figure rose to 58%. Twenty-four percent of respondents either completely disagreed, disagreed, or slightly disagreed when asked if they are paid fairly.
Majority of U.S. Companies Have Experienced Pay Compression in the Last 12 Months
Many companies are taking measures to increase pay equity among workers, research from talent solutions and business consulting firm Robert Half shows. More than half of C-suite executives surveyed (56%) said they have observed salary discrepancies between new hires and more tenured staff in the past year. Of those, 62% are regularly reviewing compensation plans and increasing salaries for existing employees, when appropriate, to align with current market rates.