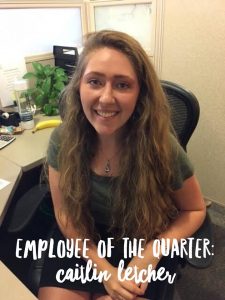 We are pleased to announce our Q1-2017 Employee of the Quarter, Caitlin Letcher!
Her accomplishments in a short amount of time with Calabria Group has proven her young and hungry attitude and work ethic leads to success. Throughout a quiet January, she persevered with placements taking place each week.
One of her peers stated, "Over the first quarter of 2017, Caitlin received five job offers and made four placements. In her short time with Calabria Group she has worked very hard to learn her craft." While another said, "Caitlin is the embodiment of Junior Recruiter. She is always on-time and ready to go and grinds it out until quitting time." Congratulations Caitlin! Thank you for being an excellent asset to the team!