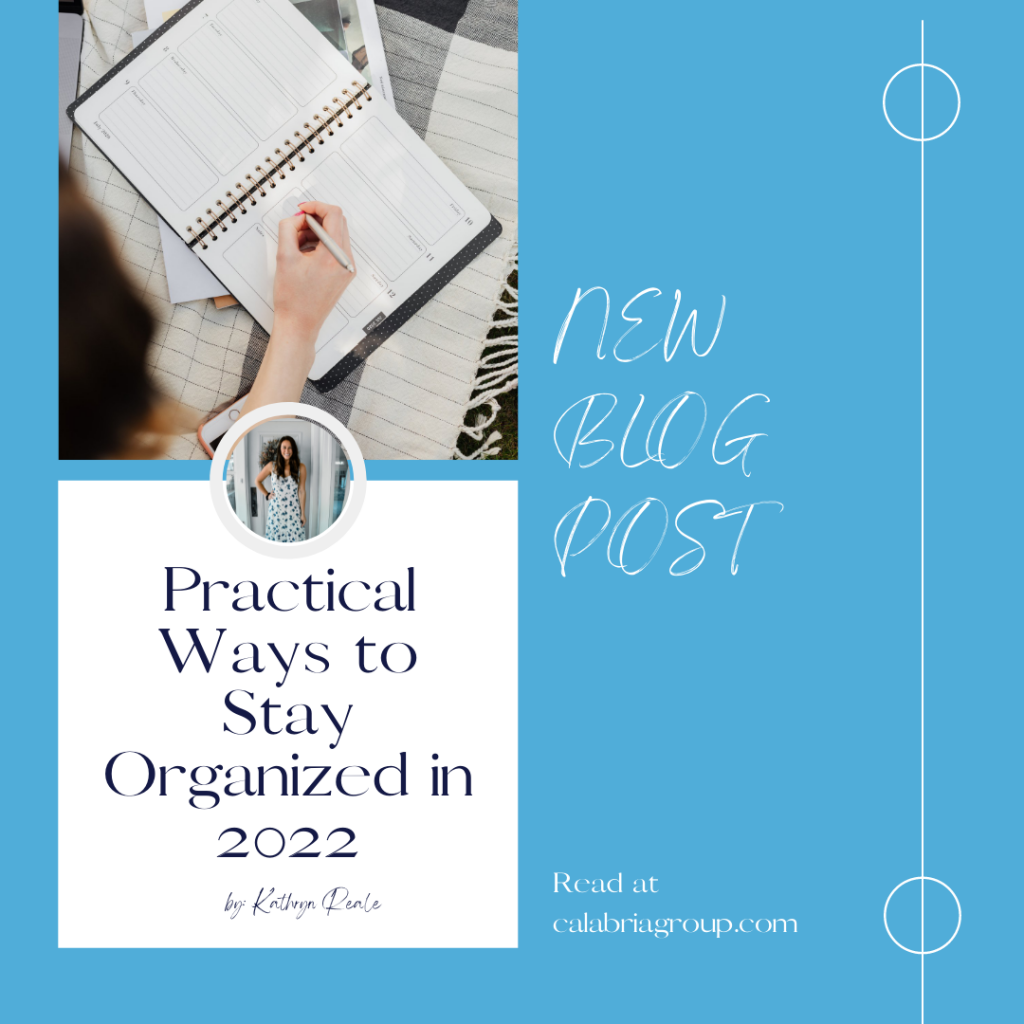 Officially ringing in the New Year sounds off the ode to a fresh start. And for many individuals, this means organizing your home and work life with excitable projects. However, according to Forbes, about 80% of New Year's resolutions end in failure. So how do we stay ahead of the curve when it comes to organization? Calabria Group is diving into the most valuable ways to prioritize organization in your day-to-day life.
📱Perform a "Digital Declutter"
It's no secret that people spend A LOT of time on their phones nowadays. Minimizing the noise by deleting unnecessary apps, photos, & documents is an easy and effective way to reduce daily stress. Want to take it a step further? Unfollow social media profiles that insinuate anxiety or unsubscribe from a pesky newsletter you never open (not ours 😉).
📆Organize Your Calendar
If you're starting from scratch here, there are hundreds of ways to organize your day-to-day tasks//life, yet a calendar is the most efficient jumping-off point. Whether you use Outlook or Google, most programs can color coordinate specific tasks and meetings to best organize your schedule by categorization. Set daily and weekly reminders so you never miss a task or meeting!
📃Dispose of Unneeded Papers
Living in a digital age, there are little to no physical papers that you can't find online. Any user's manual, bill, or magazine can be found with the power of Google, which means most individuals are keeping papers they do not need. Toss everything in a recycling bin and declutter your spaces taken up by paper!
✔️Give Yourself an Admin Day
Putting off getting that sweater hemmed? Not enough time to make the dentist cleaning you've been meaning to schedule? Take a day to schedule critical tasks that you have been meaning to accomplish, but just haven't had time to tackle. This is a great way to stay on top of and prioritize your goals and tasks.
💻Habit Track
Daily habits are the key to creating healthy, long-term lifestyle changes. There are so many incredible apps available that help to track daily food habits, planning your workouts, or even taking an everyday vitamin. Try apps like Streaks or Habitify to tick off your routine as you go and create consistent habits!
Organization can feel daunting, but even taking 5-10 minutes out of the day to arrange your tasks, declutter a space or keep track of your goals can make a huge difference in your mental health. Our team is thrilled to get the year started off right, and we'd love to hear if you are too – send us an email or a message on our socials if you have any takeaways from this blog post. Happy organizing!
Want to start your new year fresh? Search Calabria Group's available jobs below!